People around the world are wondering how to safely and legally transfer their funds to the other side of the world without incurring huge fees. As Kanga Exchange, we offer an innovative service based on blockchain and cryptocurrencies, all in order to meet the needs of our customers.
We present you the possibility to use our Exchange Points and Kanga Locals users – Kanga Transfer, which allows fast and easy buying of cryptocurrencies with cash and express sending them to any corner of the world.
Kanga Transfer – Easier and Faster
Kanga Transfer is a method of exchanging cash for cryptocurrencies, which allows for quick and secure transactions. Thanks to the services of Kanga Exchange Points and Kanga Locals users, clients can exchange cash for cryptocurrencies within a few seconds. Furthermore, the purchased cryptocurrencies can be immediately sent to recipients worldwide through an internal transfer on the Kanga Exchange platform.
Kanga Transfer is the perfect solution for people who want to transfer large amounts of cryptocurrencies abroad, as carrying large amounts of cash is often problematic, if not impossible. In these situations, Kanga Transfer gives you the option to buy cryptocurrencies for cash, and then sell them and withdraw them at Kanga Exchange Points or with Kanga Locals in the destination location. This solution provides an additional benefit for users who want to have full control over their funds, as it allows them to make instantaneous transactions and avoid the risk of carrying cash. 
Kanga Transfer allows for the transfer of funds to the other side of the world both legally and without incurring excessive fees. Thanks to the use of modern blockchain technology and cryptocurrencies, transactions are fast and secure.
One of the most important aspects of Kanga Transfer is the ability to instant purchase cryptocurrencies for cash to your wallet, and then instantly transfer cryptocurrencies to the email addresses of other registered users on the exchange. This is an ideal solution for people working abroad who want to send crypto to their loved ones. With Kanga Transfer, users can send money abroad without worrying about transfer fees or delays in transaction processing.
Kanga Transfer is also a great solution for people who frequently travel and need a fast and easy way to exchange cash for cryptocurrencies and cryptocurrencies for cash.
How does Kanga Transfer work?
Kanga Transfer offers its users the ability to transfer or send funds both within Poland and to distant countries such as the United Arab Emirates, Germany, England, Croatia, Ukraine, Spain, Belgium, Netherlands, Bulgaria, Scotland, or Thailand. Using the Kanga Transfer service, users only pay a traditional network fee of 1% and a commission for the Exchange Point and Locals, which can be negotiated directly with the person making the transaction.
Purchasing cryptocurrencies for cash can be done in 5 simple steps, which we have described in further detail in the text.
Step 1: Download the Kanga Wallet app or visit the Kanga Exchange website.
Step 2: Create an account, you will only need your email address.
Step 3: Visit KangaKantor.pl/en/ and find the nearest Kanga Exchange Point or Kanga Locals where you will make the transaction.
Step 4: Exchange cash for cryptocurrency in less than 30 seconds. Watch the video and see how easy and fast it is.
Step 5: What you do with the purchased cryptocurrency is up to you. You can send the funds via internal transfer to your family or safely sell it after traveling abroad.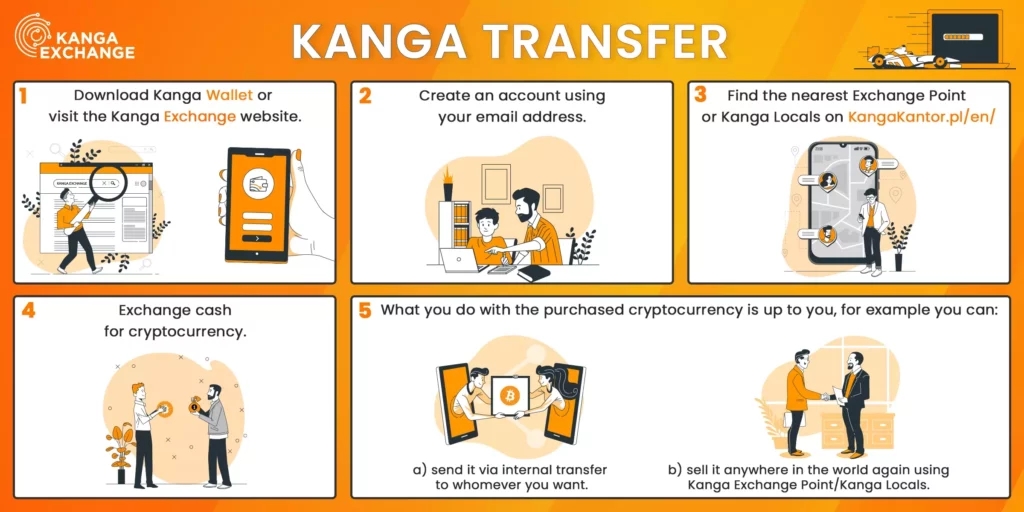 Using Kanga Transfer is easy and accessible to everyone. You don't need to have specialized knowledge about cryptocurrencies or be an experienced developer to use this service. All you need is an account on the Kanga Exchange website and internet access. Remember that the Exchange Point and Kanga Local representatives will guide you through the entire process and explain step by step how to make the transaction. However, if you would like to learn more beforehand, we invite you to explore the content on our website and contact us, where we will answer any questions you may have.
Contact
If you have any questions or concerns about using our Exchange Points or Locals, please feel free to contact us via: 
1. Email
2. Twitter 
3. Telegram 
Our specialists are here to help and will be happy to answer any questions. We also invite you to visit our website, where you will find a map of our Exchange Points and Kanga Locals, as well as their contact information and opening hours. This way, you can make an appointment to make a transaction and avoid queues.
Author: Piotr Szopa