30. Definition of LIDO – what is it?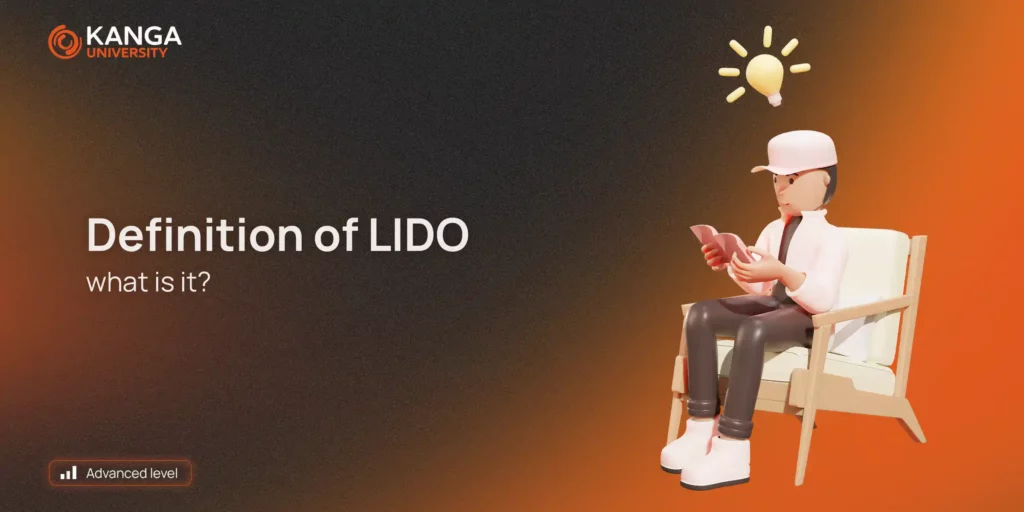 Proof-of-stake blockchains, which includes Ethereum or Solana, are based on economic staking. Thus, they resign from the computational Proof-of-Work. This is how they complete their transactions and secure the network.
Unfortunately, there is a problem here. Economic staking makes funds illiquid, as they are blocked by validators for this purpose. Today we will discuss the solution to this issue – we will discuss LIDO and learn its definition.
What is LIDO and what is its purpose
LIDO Finance to staking platform, which is a solution to the problem we wrote about in the paragraph above.
LIDO tokenizes funds of platform users into "st-token" assets. They are tied to the underlying asset in a 1:1 ratio (exactly like a tie stablecoin with a dollar). This makes the original funds liquid and usable in the DeFi ecosystem.
The platform was first launched in December 2020. If we connect some important facts, it appeared only a few weeks after it hit the network Beacon Chain. Believe us, this is no accident. LIDO focuses very closely on Ethereum.
So, what benefits does it give us LIDO? It mainly solves two problems:
It engages users in the staking process with absolutely any input amount.
Bypasses blocked funds by securing them.
LIDO – how does it work?
The platform tokenizes Proof-of-stake staking funds, as staked tokens. Then we get the opportunity to use them in the dApps ecosystem. Of course, different networks have different staked tokens. Typically, their names differ by the "st" prefix that is added to the network token. Here are some examples:
ETH – stETH
MATIC – stMATCI
SOL – stSOL
Tokens staked are tied to native tokens in a 1:1 ratio. This means that 1 stETH is equal to the value of ETH.
Having already learned the above, you have already noticed that LIDO acts a bit like an intermediary. Utility Tokens we deposit to the platform and in fact stake them on the appropriate PoS networks.
Next LIDO smart contract sets rewards for validators, manages the payout of staked tokens and issues versions of "st" tokens proportionally to the amount deposited. Stacked tokens are a safeguard for us on DeFi dApps.
In summary, the LIDO platform works in four main areas:
Stake – that is, it enables users staking their assets. As a result, they receive valuable rewards. As users, we have the option of staking any number of tokens. The platform does not limit us with any minimum entry.
Mint – when staking on LIDO, we mint staked tokens. As we mentioned, they are issued in a 1:1 ratio. To increase your profits, you can use them throughout the DeFi ecosystem.
DeFi – the platform allows us to use our assets for staking and thus obtain additional profits. The tokens that we earn from staking every day can be additionally used as collateral, a loan, yield farming and many, many more.
Community – LIDO DAO is a community. Its goal is to build staking services and develop LIDO/ The number of DAO users is growing day by day.
LIDO DAO
LIDO DAO is a platform that deals with services in liquid staking, mainly for Ethereum. Users earn rewards for staking without locking up their assets. LIDO Liquid Staking Protocol will be the liquid staking protocol on Ethereum 2.0. All users of the platform will be able to deposit their Ether in LIDO smart contracts and will receive their stETH.
Users deposited funds are controlled by DAO. In this ecosystem, node operators will never have direct access to user assets.
"st" tokens are completely free of restrictions. Especially those related to the lack of liquidity. They can be transferred at any time. The "st" token balance is calculated based on the total amount of token staked, plus rewards and minus slashing penalties.
Summary
For us LIDO is definitely a better solution than self-staking. Avoids asset freezes and validation node maintenance. Users who stake their tokens can earn from minimal amounts. No deposit limit.It is worth knowing that at the beginning the system charges 10% of prize staking fees. The fees are split between node operators, DAOs and the slashing fund. That's why the low level of fees makes LIDO even more profitable.