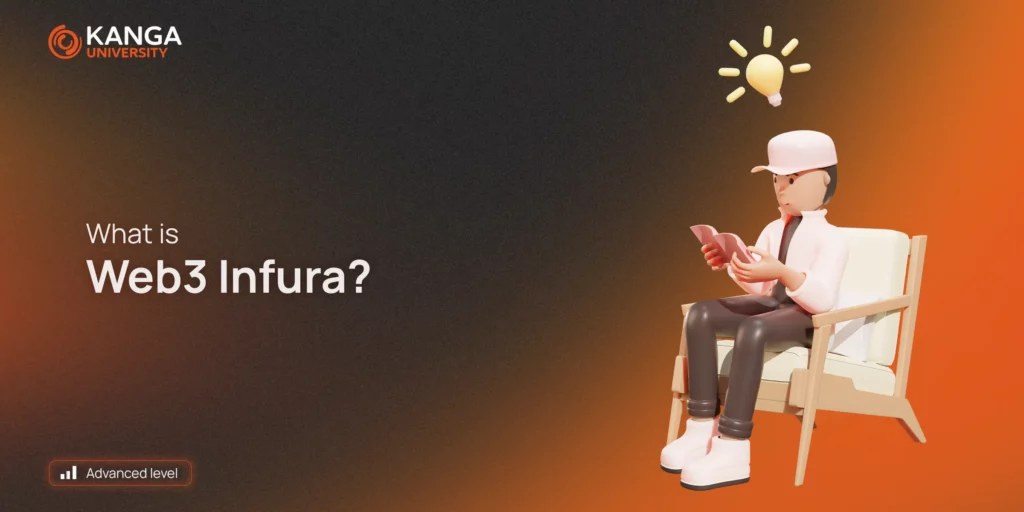 Decentralization defines Web3. It means that no central entity can influence the entire system. In Web3, authority is completely placed in the hands of users and allows me to control their data, assets and digital experiences. Of course, all Web3 development depends on infrastructure. As a result, a new definition has emerged in the cryptocurrency industry – Web3 Infrastructure.
Infura is a provider of node blockchain services, a type of storage. A set of tools that provide its application integration services to the Ethereum network. It is supposed to help run nodes of the blockchain network without the additional hardware and other things that are needed to maintain said node.
How does Infura work?
Currently, Infura is the guiding platform of the blockchain network and is called infrastructure-as-a-service. The entire platform helps developers, companies and dApp teams in various industries work on their applications.
Interestingly, Infura also offers a wide range of tools for connecting applications to the Ethereum network. Developers use the tools and infrastructure offered by Infura at every stage of their blockchain application development. This includes even in the testing or scalable deployment phase.
The solutions that Infura API offers help to access IPFS and Ethereum blockchain. As you know, most blockchain network applications, must connect to peer-to-peer networks. This unfortunately requires extended initialization times. Such applications need hours or even days. To synchronize with an Ethereum node. Infura can solve these problems, thanks to its infrastructure and the tools it offers. It will make it faster and easier for emerging applications to connect to IPFS and Ethereum. What's more, developers won't have to worry about mere synchronization with Infura or configurations when launching their dApps.
Infura is an indispensable element of Web3. With the development of Ethereum, the Web3 space also developed. We have written about the application of Web3 on the Blockchain (LINK Examples of the application of Web3 on the Blockchain-intermediate).
What are the advantages of Infura?
Infura was designed to help developers. Now, they no longer need to build their own node to run their application on Ethereum. All they need to do is use Infura. For the ever-expanding Web3 space, this offers several significant advantages:
Infura supports innovation for Web3 developers.
Since nodes for developers are no longer such a complicated thanks to Infura, they can easily use the utility of Ethereum and Infura to bring their projects to Web3.
Greater diversity of users.
With a more streamlined launch process, Web3 users now have more decentralized applications to choose from.
A specific recharge of the Ethereum ecosystem.
Infura has helped Ethereum be a bigger system. It made projects scalable, which in turn made the Ethereum ecosystem have even more users. The development of Ethereum has influenced the development of Web3. And it's all thanks to Infura
Disadvantages of Infura
Of course, all the above sounds beautiful. But let's not forget that every stick has two ends, and the much-vaunted Infura itself has its drawbacks. Here are some of them:
Nodes
In the case of multiple dApps, it is Infura that provides the nodes. In case of failure, problems will affect the entire system, not just a single dApps.
Interruptions.
Failures Infury cause a large part of the Ethereum dApps ecosystem to stop working at the same time. As a result, some platforms have to suspend their functions.
A specific recharge of the Ethereum ecosystem.
Infura is a centralized service. Therefore, it can be tracked by governments or other third parties.
Infura solves key problems for Web3 developers, however, at the same time it has become the tool that causes system-wide crashes. Even if some applications are decentralized.
The Future of Web3
If the entire Web3 network is to be decentralized in the future, there is still a long way to go. It will have to be made more resilient and autonomous. At the same time – more resilient to single points of failure.
Summary
Whatever the future holds, Infura Web3 is important to the entire blockchain and Web3 space. The system is still developing and evolving. However, before it shows itself to us in all its glory, it is worth knowing the underpinnings of how it works and what it is used for!