28. Non-fungible tokens and NFT exchanges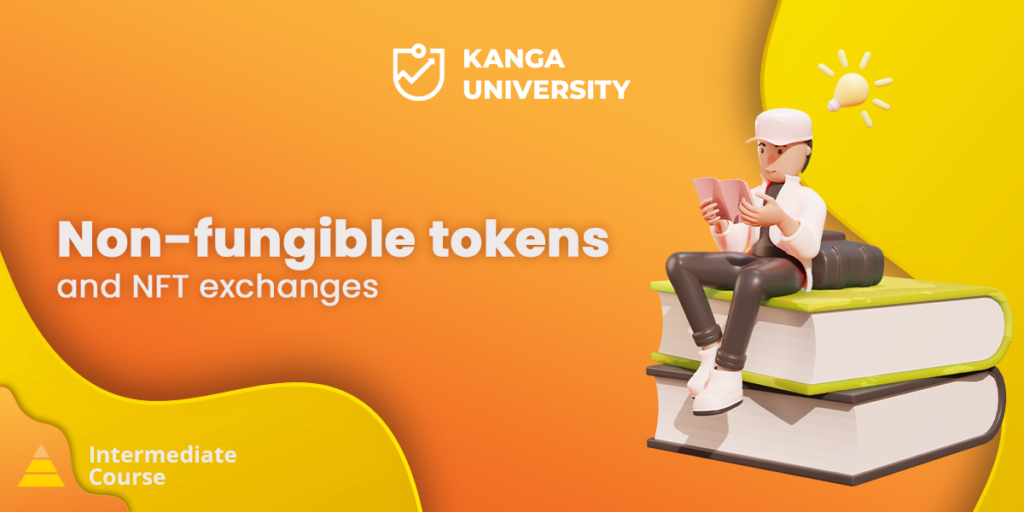 More and more companies are interested in space NFT i Metaverse. Tokens and collectable digital items bring users billion-dollar profits. NFT has become very popular, ranging from celebrities to many cryptocurrency investors.
Since NFT have reached their golden days, countless platforms have been created that allow us to create and trade them. And although initially non-fungible NFT tokens were only familiar with Ethereum blockchain, they are currently available in every major network. In today's lesson, we will look at the most important and largest NFT markets.
Non-fungible NFT tokens
Before we get to the merits, let's recall the definition of non-exchangeable tokens and their characterization.
NFT Tokens are representatives of objects, most often collectables, stored on the network's blockchain. It can be trading cards, sound, image, unique shoes and even NFT art.
For the holder, such a token is a digital confirmation of the ownership and authenticity of the asset. Due to its uniqueness, it is so desired by users and extremely rare in circulation.
NFT, they had their boom in 2021. At that time, we also noted an increased demand for this type of asset. As a result, countless ones began to emerge, NFT exchanges. The marketplace allows users to buy, sell, trade and even create their own NFT tokens.
It is worth noting here that this sector of cryptocurrencies attracts the attention of not only niche cryptocurrency investors, but many well-known personalities and brands from various industries. Including even world-famous designs and works of art.
We have already discussed in previous lessons how to make money on NFT, today let's look at the platforms.
NFT platforms and exchanges
At the beginning of our lesson, we mentioned to you that initially, most platform NFT was created on Blockchain Ethereum. With the development of NFT, exchanges started to use other blockchains and networks. Let's look at them.
OpenSea
By far the world's largest covering market, NFT tokens. The exchange was launched in 2017 and has since sold NFTs worth $20 million. The creators of the exchange are two entrepreneurs – Devin Finzer and Alex Atallah.
The OpenSea platform works very simply. To sign up and create an account, you need to link your cryptocurrency wallet. This will open the world of NFT to you. As a user, you can buy and sell tokens based on cryptocurrency or fiat. On OpenSea you will find the most famous NFT collections and tokens. Not surprisingly, it is on this platform that the largest transactions have taken place and the most interesting projects in the world are located.
The stock market is built on Blockchain Ethereum, but also integrated with Polygon. All this to reduce gas bills.
Data for 2022 show that the exchange has as many as 1.4 million users and sales of a total value of USD 4.1 billion. The most popular NFTs we find on it are Bored Ape Yacht, CryptoPunks and Doodles.
Rarible
Rarible is an excellent option for people who want to start their adventure with NFT. The exchange is easy to use and offers virtually any type of token. On the platform, you can simultaneously create, buy and sell non-tradable tokens. To create an exchange account, you first need to create a wallet, connect it to the platform, and then buy some ETH.
If you want to be an NFT developer, you don't need complicated coding skills to do so. The stock market is built on Ethereum Blockchain. How does the platform work?
To sell your digital creation, you first need to convert it to NFT. Of course, using Rarible. The moment a buyer purchases your content, the exchange sends the NFT to the buyer's wallet and records the transactions on Ethereum.
The platform also has its native token – RARI, which allows exchange users to have a real impact on its development.
If you want to buy a collectible, after connecting your wallet, you simply click "Buy Now" on the specific NFT. Once the transaction is complete, all data will be synced to your wallet.
User base exchanges are as many as 1.6 million people.
SuperRare
To NFT exchange, based on Ethereum, however… for the chosen ones. It follows very strict rules and processes. So, it's no wonder that he only collaborates with selected artists.
The platform was founded in 2017 by John Crain, Charles Crain and Jonathan Perkins. The stock exchange is guided by one idea – collecting is social. Therefore, artists and collectors should connect with each other and share their passion and art. SuperRare are high-class digital art projects, but only for the chosen ones.
The stock exchange, of course, is not as popular as OpenSea or Rare. However, this does not change the fact that the platform is in the top ten exchanges. In its ranks we will also find unique works.
Axie Infinity
It would seem that Axie is just a popular play-to-earn game associated with cute creatures. Nothing could be more wrong. Axie is one of the most popular NFT markets, which allows users to create, buy and sell Axies.
The platform is built on the Ronin network- sidechain Ethereum. It works like a Layer 2 blockchain.
Decentralized
It's also not just a game. The platform, built on Ethereum, was launched in 2020. As users of the exchange, we have access to collectibles that we purchase with a token MANA. We are talking here about real estate, clothes, or even the lease of plots.
Artists and creators have full rights to their works. As a curiosity, we will only add that in 2021 one of the plots in the game was sold for $ 2.4 million.
Nifty Gateway
Next NFT exchange was mainly aimed at the elite. By default, the platform is based on Blockchain Ethereum and allows us to create, buy and sell NFTs. Nifty Gateway has a very strict artist vetting process. It has strictly defined rules and a strict internal policy. You must be verified by the exchange to list your NFT.
Exchange selection
We took a look at, in our subjective opinion, the best and most interesting NFT exchanges. There are a few things to consider when choosing a platform to trade on. What are we talking about?
Security. It should be your priority. You are responsible for your funds, so select an exchange that provides appropriate security measures for its users. We are talking here, for example, about compensation for funds in the event of a hacker attack.
Fees. Some blockchain networks have exorbitant transaction fees. Consider this fact before selecting NFT so as not to waste all available funds on a single transaction.
Clarity. If you are just starting your adventure with NFT or some aspects of crypto are still black magic for you, we recommend you decide on an exchange with a friendly interface. Investing in digital assets is supposed to be a pleasure, not a problem, before each next step.
Commissions. Before picking your investment platform, check the commissions that the exchange charges for a transaction. They are usually in the range of 2.5%-15% of each carried out transaction.
NFTs available. Be interested in what NFT tokens are offered by the exchange. Some of them are intended for a specific purpose, e.g. sports cards. If you are not interested in this topic, you will not even know what to do with such a card. Choose NFT tokens that are close to you and in line with your interests.
Chain. NFT exchanges are usually built on Blockchain Ethereum. However, there are those that are built on Polygon, Solana, or Cosmos. Before creating an account, familiarize yourself with the characteristics of the network in question.
Summary
You already know what NFT exchanges we have on the market and what they are. However, before you decide on the only one, take advantage of our lesson and pay attention to the most important elements. This allows you to avoid unpleasant situations and disappointment.However, consider that the market of NFTs and cryptocurrencies is constantly evolving, and thus – new ones will appear platforms offering their services.