47. Ethereum Proof-of-Stake (PoS) – what should you know?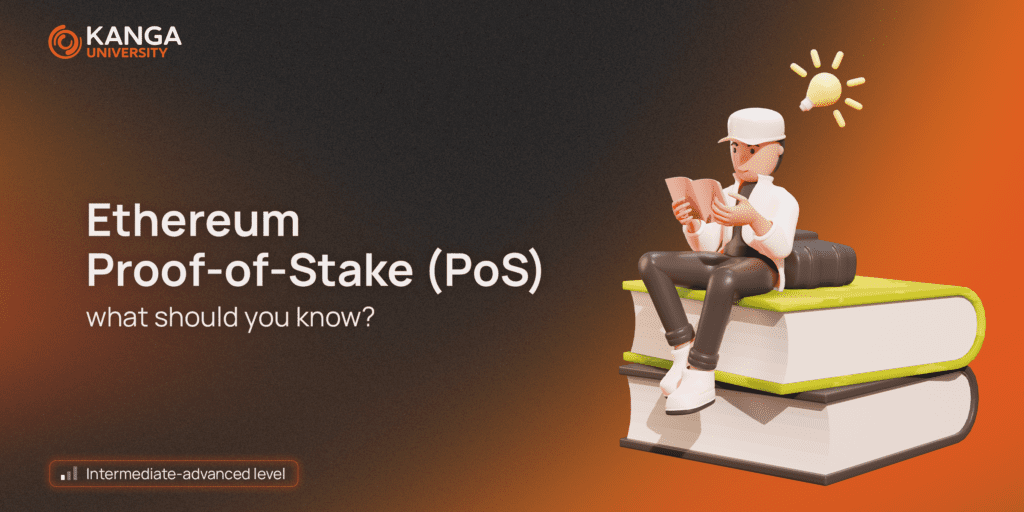 Ethereum's move away from the Proof-of-Work (PoW) consensus has raised many questions about this topic in the cryptocurrency industry.
Ethereum is the largest ecosystem for building dApps. Its core is the second largest cryptocurrency, Ether. The software update to switch the consensus to Proof-of-Stake (PoS) took place in August 2022. This raised questions to which it is worth knowing the answers.
So, let us get to the topic of today's lesson – what should you know about PoS in Ethereum?
Proof-of-Stake (PoS)
We have already written here about what this consensus model is and how it works.
However, we need to clarify what PoS and Ethereum Blockchain are all about. The blockchain of this ecosystem has merged with a separate blockchain, radically changing the way transactions are processed, and new Ether tokens are created.
This new way is, of course, Proof-of-Stake (PoS), which in addition to the changes mentioned above, also reduces the energy consumption of the Ethereum blockchain by 99.9%. The consensus change itself also paves the way for further updates to the blockchain, which will simultaneously enable cheaper transactions and improve the scalability of the Ethereum blockchain.
Until now, Ethereum has relied on a Proof-of-Work (PoW) model. This means that every transaction has been verified by miners. These use powerful computers that provide enormous computing power. While this consensus model makes blockchain records secure, it is also very energy-intensive.
In the Proof-of-Stake (PoS) model, Ether owners (validators) block a certain amount of their coins (Ether) to verify transactions and add new blocks to the chain. In effect, the network is secured by cryptocurrencies (staking). Instead of spending countless energies to solve the puzzle (as is the case in the Proof-of-Work consensus), nodes use their coins as collateral when approving new transactions. So in this case, we can be sure that the nodes and validators are working efficiently and honestly. Because nobody wants to lose their collateral.
Since we already know how the Proof-of-Stake (PoS) consensus mechanism works, we will now answer some important questions about this system and about Ethereum.
Transaction processing on Ethereum – who are the validators?
Validators – an important part of the PoS consensus. They are responsible for processing transactions on Ethereum while securing the entire network.
On the Ethereum blockchain, anyone can become a validator. All you have to do is make a deposit of at least 32 Ether on a specific smart contract. The protocol then randomly selects participants to propose and vote on new blocks. To become an Ethereum validator, you not only need to block a certain amount of Ether, but you also need three other software components: an execution client, a consensus client and a validator.
Interesting fact: The Beacon Chain is the foundation of Proof-of-Stake (PoS) on Ethereum. It hosts more than 400,000 validators! Slots for new validators appear every 12 seconds.
Interesting fact 2: In Proof-of-Stake (PoS) Ethereum, an epoch occurs every 32 slots. This is equivalent to about 6.4 minutes. Each slot in an epoch is time for a group of validators (the group must include at least 128 validators) to vote on the validity of a block.
How do validators work in the Ethereum blockchain?
Beacon Chain randomly groups stakers into committees of at least 128 validators. They are then assigned slots. Importantly, the person proposing a block does not have to be a member of the committee to which the slot is assigned.
Once a committee has been assigned to a selected block, only one random person from the group of 128 members is chosen as the one to propose the block. The remaining 127 validators vote on the proposal and confirm the transactions. If a majority of the group members agree, the block is added to the chain. The validator who proposed the block receives a reward of ETH.
PoS finalization on Ethereum
Finalization or finality is a concept that states that transactions on the blockchain are immutable. Data cannot be changed, deleted or lost. Obtaining finality depends very much on the latency of the blockchain in question.
So, how is this finality achieved in Proof-of-Stake (PoS) consensus in Ethereum? Through a deterministic method and the so-called 'checkpoint' blocks.
You will understand this better with an example. The first block in each epoch is a checkpoint. The validators vote on pairs of checkpoints that are considered valid in the blockchain. If a checkpoint receives the majority of votes (i.e. 2/3 of the total used ETH), it is considered valid. It is then given the rank of finalization, with earlier epochs also being finalized.
Is a 51% attack on the Ethereum PoS possible?
Details about the 51% attack and the possibility of its occurrence can be found at the link [WHAT A 51% ATTACK ON BLOCKCHAIN – LEVEL MASTER].
As a reminder, a 51% attack occurs when validators or miners own the majority of the hash power of a particular blockchain and alter its functioning.
In the case of PoS Ethereum, attackers would have to own 51% of all ETH, which would mean control over billions of USD. This is almost impossible. Although this is costly for the blockchain in question, the larger the number of participants in the network, the more difficult it is to mount a successful cyberattack.
What is ETH Staking?
ETH staking is a process where we deposit and block any amount of Ether to validate blocks and secure a consensus layer. Of course, you will receive a reward for doing so.
Where can you stake ETH? There are dedicated platforms for this, such as Lido Finance. You put your ETH there and receive stETH in return. These can be traded or used in DeFi protocols, e.g. for loans.
Important: If you want to stake ETH after the transition from Ethereum to PoS, you have to keep in mind that parity between stETH and Ethereum was never adopted. Why actually? To prevent stETH from being rapidly sold off by large market players, such as the aforementioned Lido Finance.
Interesting fact 3: According to the Coinshares report, stETH does not need a 1:1 correlation with ETH, to function properly.
Summary
The key points following the shift from Ethereum to Proof-of-Stake (PoS)? The ecosystem will rely on validators, not miners, to validate transactions on the Ethereum blockchain. For a validator to have voting rights and receive rewards, he or she must deposit and block 32 ETH. He or she can then participate in voting for new blocks.
Today's lesson has given you an understanding of how the Proof-of-Stake (PoS) consensus mechanism works on Ethereum. This will enable you to make more informed decisions when interacting with this blockchain.
Reminder!
Ethereum was switched to a Proof-of-Stake (PoS) consensus mechanism in 2022. PoS is more secure and energy efficient, especially when it comes to validating transactions and adding new blocks to the blockchain.
Proof-of-Stake (PoS) offers high network security. However, it is important to understand how it works before using it!