31. Interoperability in the world of cryptocurrencies and blockchain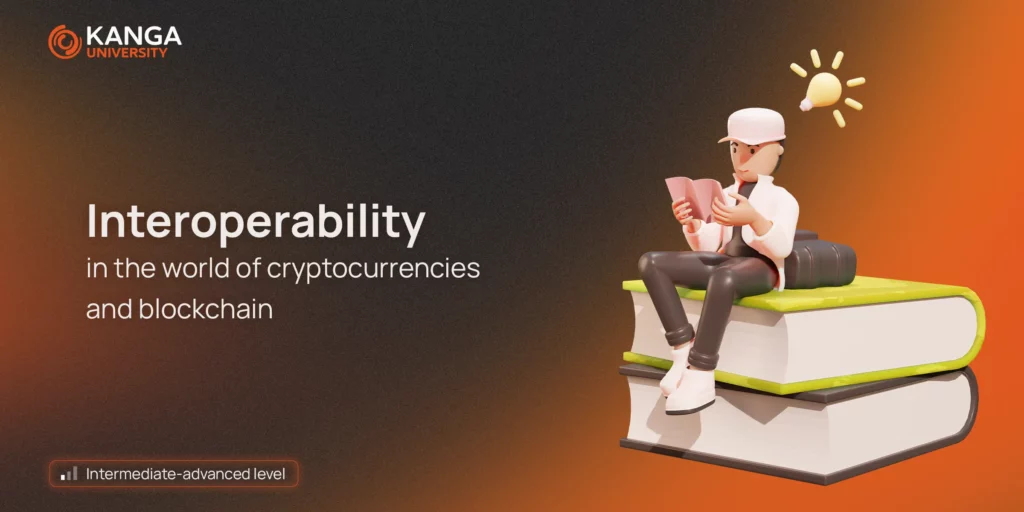 Interoperability is an essential part of the cryptocurrency industry. Daily, it enables networks and blockchain protocols to communicate with each other. This allows everyday users to engage even more with blockchain technology. Why is interoperability so important in the world of cryptocurrencies and blockchain technology?
New blockchain networks are being created every year. They solve the problems of specific niches, and each has specialized functions tailored to its purpose. The rise of blockchain is also a confirmation that there is no single solution that will meet all our needs. Therefore, as we realize the growth of this technology and its capabilities, connecting all blockchains and networks, becomes a necessity. And here comes another solution: interoperability.
Interoperability – definition
It is the ability of systems, devices, applications, or products to connect and communicate with each other in a coordinated manner. This includes data transfer or collaboration. Interoperability helps achieve higher performance. We distinguish:
Syntactic interoperability – includes systems that can communicate effectively with each other, using simple formats (XML and SQL) and protocols. It is often referred to as structural interoperability.
Semantic interoperability – the ability of systems to automatically exchange and accurately interpret information. It is achieved when the structure of data and its codification is uniform for all systems involved.
Cross-domain or inter-organizational interoperability – is the standardization of practices, policies, fundamentals, and requirements of systems. It focuses mainly on the non-technical aspects of interoperability within an organization.
Data exchange between applications, databases, systems, etc. is the key to the development of modern technologies.
Interoperability of blockchain technology – what is it?
Furthermore, it refers to the many methods used to connect multiple blockchains. It allows them to communicate with each other, share digital assets, databases and collaborate more efficiently. Interoperability also enables the transfer of data and assets across different blockchain networks, using decentralized cross bridges.
As most blockchains are built from different standards and codes, interoperability among them is not common. As a rule, "natural" blockchains are incompatible and transactions are performed within one of them.
In the crypto industry, interoperability can be understood as the freedom to exchange data. Current protocols cannot effectively communicate with each other. Ethereum or Cosmos, which are tier one protocols, have intelligent contracts built in, which allow secure data exchange only within their ecosystems. We have written about smart contracts here, so we will not dwell on this topic.
Not surprisingly, organizations that want to work based on blockchain are demanding its interoperability. All because of the benefits that come from cooperation in this area.
Why is blockchain interoperability so important?
Given the wide variety of blockchain ecosystems, it is essential that the two on-chain environments work together. This is a significant feature, especially for developers who want to build cross-chain/modularized applications (these applications unify the fluidity of multiple on-chain environments). Interoperability is equally important for application developers who would like to take advantage of the unique strengths and features of each blockchain.
However, there is more to it than that. Blockchain interoperability protocols are equally valid for traditional systems that need to interact with other, different blockchains. Such an interoperability protocol is the basis for building a blockchain layer that will enable traditional back ends and dApps to interact with any on-chain environment, through a single solution.
Interoperability also solves another problem – it will allow users to use a single token across multiple blockchains. What's more – blockchains will communicate with each other, making it easier for users to access multiple protocols on multiple blockchains.
Interoperability vs. cryptocurrencies
It is worth noting that interoperability does not only refer to connectivity between blockchains. Protocols and some smart contracts are also interoperable. For example – the T3nr platform allows intelligent contracts to operate on multiple blockchains. How? The contract is hosted on the smart contract platform, then deployed and executed on different blockchain networks.
Such interoperable smart contracts allow developers to create cross-chain applications and users to conduct cross-chain transfers. What's more, with such a solution, users can access multiple decentralized applications without having to change networks. You can read about how decentralized apps work here.
Oracles, which we have also written about. This is another protocol that can benefit from interoperability. As a reminder – oracles connect the real world, with the virtual world. They use smart contracts to do so. Decentralized oracle platforms, can connect them to multiple blockchain networks. They then allow blockchain to share data from the real world.
Interoperability is also an important element in the exchange of digital assets, between blockchain networks. The most common way this is done is through the use of cross-chain bridges. Bridges allow tokens to be transferred from one bridge, to another.
Summary
Interoperability is a key aspect in the blockchain industry. It is a kind of key to success. Interoperability reduces the barrier to entry for users who want to engage with multiple networks simultaneously.
Moreover, – interoperability will increase efficiency across the cryptocurrency sector. Users will be able to move their assets quickly and flexibly between blockchains. Instead of being tied to a single blockchain, smart contracts will be able to operate across multiple networks. Interoperability should thus form the basis for the use of blockchains.