29. Cryptocurrency steps – What is move to earn M2E?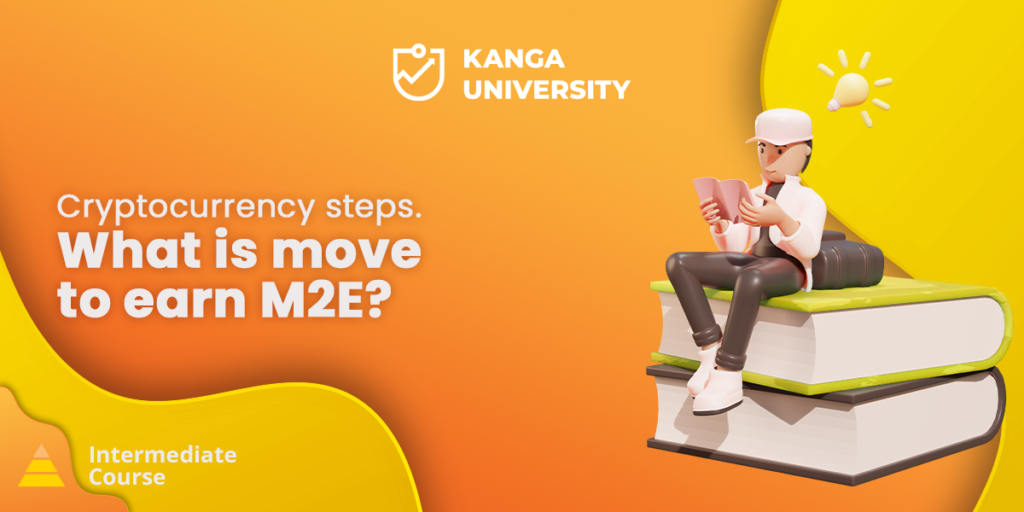 Move-to-earn is one of the newer trends of the cryptocurrencies, which has recently appeared on the market. Also known by the name move-to-earn crypto, the move-to-earn NFT. This concept rewards players of cryptocurrencies for the training carried out.
Apps use blockchain technology to track players' movements and reward them for the move they make. In this way, we can turn a tiring fitness training into a real goldmine.
What exactly is move-to-earn?
Model Move-to-Earn (M2E), is a new type of game, or rather applications, which was created in Web3 and blockchain technology. It is supposed to persuade people to make more effort, in return for which the user will receive a reward in the form of cryptocurrencies.
In this model, the user is rewarded for actual activity, not gameplay. The GPS signal tracks the user's effort in a given application, for which he is rewarded with tokens. They can later be replaced with cryptocurrencies, and the foamed ones. It is worth noting, however, that most of the applications move to earn require users to invest in NFT from the start. However, we will get to the descriptions of the designs of this model soon.
Advantages and disadvantages of move-to-earn
The concept itself assumes that physically inactive people will start exercising more often. All thanks to the promised rewards. The model move to earn assumes that it will simultaneously improve the user's financial situation and overall health.
However, the downside is the fairly high entry threshold in most applications of this model. Games regularly require you to invest large sums of money to start, unlock new levels or buy add-ons.
The most popular move-to-earn projects
STEPN
Web3 application, based on blockchain Solana. She first appeared in January 2022. The application encourages walking – the popular daily number of steps. For achieving the goal, we get NFT. However, to start using the app itself, you'll need to purchase special NFT sneakers. Recently, the application has gone through a big crisis, but it is slowly returning to its popularity.
MetaGym
Metaverse Gym. MetaGym is a smartwatch mobile app and even MGNC's own cryptocurrency. At MetaGym, users get their NFT Metaverse avatar, known by the name MetaGym Buddies. Thanks to it, we can do cardio, fitness or other physical effort. We work to earn MetaGym Coin (MGNC). We use the acquired cryptocurrency to reach a new level, or to make new NFT clothes or upgrades.
For completing various physical tasks, we can earn up to $100 MGCN per day. The application gives you the opportunity to rent your avatar and earn money on the physical effort of other people. You can also sell your character in the app.
Sweatcoin (SWEAT)
Another move to earn game that rewards users for walking and running. Every 1,000 steps we take is a certain amount for us SWEAT. We buy electronics, fitness equipment and other gadgets with SWEAT.
What's cool about this app is that we can use SWEAT to invest in cryptocurrencies or other assets.
STEP (FITFI)
It is also an M2E application, but it works a little differently than the others. We compete with other users of the application inMetaverse and turn your fitness goals into income.
First, we need to choose our NFT SNEAKs. We use it as training equipment and move around with it. Our goal is to acquire cryptocurrencies. We run against our friends or other users. We transform competition into fun. Furthermore, we earn KCALs while competing.
drop (drop)
Another app that rewards us for training. First, we need to equip ourselves with NFT sneakers and then… start moving! Calo gives us the opportunity to take part in weekly or monthly challenges. However, if we dislike team games, we can practice on our own.
For every minute of our training, we earn CALO. We can use them to buy things on the market – fitness equipment, training programs or nutrition plans. CALO is also a great way to invest in other cryptocurrencies.
OliveX (DOSE)
Another application where we earn money for walking every day. Our traffic is tracked by the application and converted into DOSE tokens. We can then cash them in for prizes, fitness products or charitable donations.
Genopets (GENE)
A move to earn NFT game. As the name suggests, it is a game about pets. In it, we earn GENE tokens by moving, which we use to care for our "spirit animal". The more we take care of the pet, the more GENE we earn.
At the same time, travelling around the Genoverse, we can improve our Genopet NFT. We can sell our GENE to other players, take part in competitions and raise our ranking.
In addition to the fact that Genopets rewards us for physical movement, it is also a great application to socialize.
Dotmoovs (MOOV)
A move-to-earn NFT game. The application allows you to earn MOOV tokens by performing workouts in real places. All thanks to Augmented Durability (AR) technology.
Our progress and rewards are tracked using so-called moov points. Normally, points are used to buy fitness items, avatars or other upgrades.
As you can see, each game is slightly different. However, they all have one thing in common – we earn cryptocurrencies by moving. Complete a training, walk or race and receive a valuable reward for it.
Summary
The very concept move to earn is very positively received. In terms of the future, it is also very promising. Presently, there are not as many investors as the play-to-earn games we wrote about here[Link – games based on blockchain – beginner level]but everything is moving in the right direction.
If we consider the growing trend towards a healthy lifestyle, this initiative will grow. The downside of the application for a potential user may be a high entry threshold – investment in NFT or special shoes / training equipment. However, we hope that with development, some elements of this concept will also change.