62. What Is Bitcoin (BTC.D) Dominance?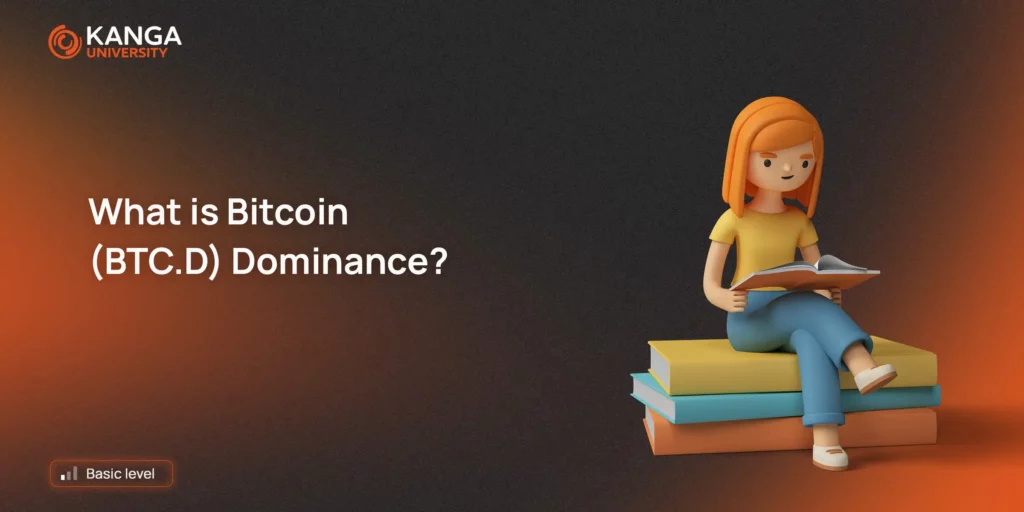 Bitcoin dominance is one of the most important and very useful indicators that show us the movement of Bitcoin on a chart. In today's lesson, we will discuss what exactly this Bitcoin dominance is and why it is so crucial, especially within technical analysis.
Bitcoin is the largest and most prominent cryptocurrency on the market currently. It holds significant influence over other digital assets, making it a crucial factor to monitor. By tracking the movement of BTC, valuable insights can be gleaned, providing information that can project the overall market trends.
Bitcoin Dominance – Definition
Bitcoin dominance (BTC.D) is the percentage of the entire crypto market capitalization that Bitcoin alone occupies. So if the entire cryptocurrency market capitalization is $1T and Bitcoin's capitalization is $500B, we can easily calculate that Bitcoin's dominance is 50%.
Definition: BTC.D is calculated as the ratio of Bitcoin's market capitalization to the total market capitalization of the digital asset space.
It is not difficult to guess that at the very beginning of Bitcoin's existence, its dominance was 100%. However, with the development of the market for digital assets, the emergence of more cryptocurrencies and tokens, its dominance is gradually declining.
Bitcoin dominance is a signal for traders to make changes in their investment strategies; no wonder, then, that BTC.D is such an important indicator.
Over the years, we have seen that whether Bitcoin's price goes up or down, the rest of the crypto market follows it. So if you want to track the movement of Bitcoin and the entire digital asset market, use the indicator discussed today to do so.
Here's an example. If BTC.D goes up, then Bitcoin has more total capitalization, and altcoins have less at the same time. That is, the price of BTC will go up and alts will go down.
What Can We Use the Bitcoin Dominance Index For?
To track the market. Simply put. BTC.D is a good signal to read where the current market is going and how we can optimize our investment strategy to maximize profit.
Effects of Bitcoin's Dominance on the Crypto Market
If BTC dominance rises, and:
the price of BTC goes up, then altcoin funds flow into BTC.
BTC price goes down, then the entire cryptocurrency market goes down.
BTC price goes sideways, it means that investors realize profits from alts into fiat/BTC.
If BTC dominance falls, and:
BTC price goes up. Funds from the market flow into BTC. They can then pull altcoins and the entire market.
the price of BTC is falling, so the entire market for digital assets is going down.
the price of BTC is moving sideways, it means that money from the flagship cryptocurrency is going into altcoins. The price of Bitcoin going sideways tells us that there will be little impact on altcoins, allowing them to rise freely. This is the time when the price of fundamental altcoins goes up.
If BTC dominance is moving sideways, and:
the price of BTC is going up, meaning that money from outside the market is going into Bitcoin.
the price of BTC is going down, this means again that the entire cryptocurrency market is going down.
the price of BTC is going sideways, this gives investors a signal that Bitcoin is stagnant. Altcoin prices are rising, and Bitcoin is not affected.
How to Use BTC.D in Your Trading?
It is worthwhile to combine the BTC.D indicator with other tools to enhance our investment strategy. By considering Bitcoin's dominance, we gain valuable insights into the market's movement and the multitude of trading opportunities available. Integrating BTC.D with other indicators allows for a more comprehensive analysis, empowering us to make well-informed trading decisions and optimize our investment approach.
At the same time, you can use BTC.D charts to improve the quality of your technical analysis. It's still a great way to enhance your investment strategy.
Advantages and Disadvantages of Bitcoin's Dominance
This is a great indicator with which we can track the cryptocurrency market.
It is highly useful, especially when discussing Bitcoin's movements. As the market leader, understanding Bitcoin's dominance helps us stay informed about the prevailing trends and dynamics.
It is not a foolproof indicator. So it must be used with other tools.
Bitcoin Dominance VS Altcoin Dominance
In today's lesson, as you have noticed, we were closely comparing BTC.D (Bitcoin Dominance) to altcoins. While these are two separate indicators, they function in a similar manner. BTC.D measures the strength of Bitcoin in relation to the overall digital asset market, while altcoin dominance measures the strength of altcoins.
So if altcoin dominance is growing, funds are flowing toward altcoins rather than other crypto. This shows a possible alt season. However, if altcoin dominance goes down, then investors' money moves from altcoin to Bitcoin.
Summary
That's all you need to know about Bitcoin dominance at this stage. It is a very useful indicator, but just like any other – it does not work alone. It's not infallible, so it's worth pairing it with other tools that will give you an even greater view of the cryptocurrency market.