54. What are decentralized DAO organizations, and how do they work? What are DAO tokens?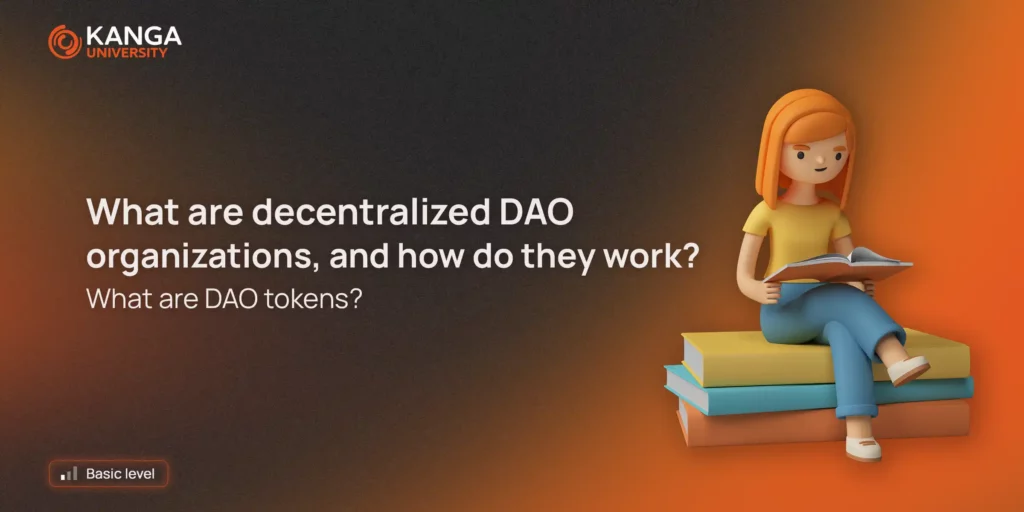 DAO tokens, like decentralized autonomous organizations (DAOs), are associated with decentralized finance (DeFi). They enjoy virtually the same interest. However, cryptocurrency and blockchain technology enthusiasts have different opinions on DAOs.
Is DAO the next big thing in the cryptocurrency sector, leading us to a fully decentralized future? It could well be. Let us dig deeper into the topic and answer this important question – what is a decentralized autonomous organization (DAO)?
Decentralized autonomous organization (DAO) – definition
This type of organization operates with a set of rules written down in a code and enforced by a network of computers. To become a member of such an organization, we must first acquire its cryptocurrency. Tokens in DAOs play an important role. Ownership of such assets gives users the right to vote on proposals or updates to a particular protocol, in proportion to the amount of assets they own.
How does this type of organization work?
It mimics the corporate structure, but its rules and regulations are created using open-source code. The rules are enforced through smart contracts.
Just remember that smart contracts are those contracts that are programmed to perform a certain activity when certain conditions are met. Usually, these conditions are set by the stakeholders of the decentralized autonomous organization.
Importantly, there is no hierarchy in DAO. The organization encourages its networked and dispersed users to achieve a common goal. A key feature of DAO is internal capital. It is used to motivate users and ensure the smooth functioning of the organization.
Interesting fact: After the DAO has established a set of rules and is programmed into smart contracts, the organization enters the funding phase. Anyone who wants to have access to it can participate.
Advantages and benefits of DAO
First and foremost, complete decentralization. Each member of the organization has a fairly equal say in important decisions. However, this depends on the number of tokens they hold. The more coins, the more important a stakeholder's vote is. However, voting rights are still dispersed, so power cannot be transferred to one person.
Second, participation. When members of DAO feel that their votes and involvement are treated fairly, they feel a stronger sense of belonging to the project. This prompts them to use their tokens in ways that benefit the organization – by casting their vote or even burning them.
Publicity. There is virtually nothing hidden in DAO. Because they are based on open-source software, the votes cast are publicly visible. This gives every user a sense of responsibility for the community. Therefore, voters do not want to put their reputation on the line.
A final important advantage of DAOs is the building of an engaged community. Decentralized autonomous organizations allow people from all over the world to connect with each other and work towards common goals. All that is needed is an internet connection and management tokens. Therefore, there is really a lot of scope for innovative development of DAO, both for the organization and on the part of the members themselves.
Disadvantages of DAO
Decision-making is a time-consuming process. The large number of participants in a particular vote automatically increases the duration.
DAO requires knowledge. Not only about token management, but also about the technology. Decentralized organizations require that you are well versed in the world of new technologies. If you are not familiar with it or do not know what a DAO is, we do not advise you to join the community.
Organizations that are not well protected or do not follow the right security protocols are vulnerable to attack (exploit). This is a serious risk that can even lead to the theft of financial reserves.
DAO projects and tokens worth looking at
Curve DAO
It is a decentralized exchange and market maker (AMM). As a market maker, Curve DAO focuses mainly on stablecoin pairs. This decentralized organization is popular among users for its liquidity management and intuitive platform.
In addition, the platform offers users stable prices for the exchange stables, ERC-20 tokens and other digital assets. In addition, users can deposit their stablecoins in Curve DAO liquidity pools and earn additional profits in the form of transaction fees and rewards.
Lido Finance (LDO)
This is a relatively young project that was launched in 2020. It is one of the most popular solutions for seamless staking of cryptocurrencies based on the Proof-of-Stake consensus. Lido is currently one of the largest DeFi protocols, with a TVL of around US $13.83 billion.
The protocol allows any amount of assets to be staked in the protocol and their tokenised version recovered, which can be used in DeFi protocols to generate passive income.
Uniswap (UNI)
It is a decentralized exchange (DEX) where users can trade crypto assets without intermediaries or complex order books. The protocol was launched on the Ethereum network in 2018. It has revolutionised cryptocurrency trading with a seamless and user-friendly platform. A key feature of the protocol is the automated market maker (AMM) model. It allows anyone to participate, contribute and make money as a liquidity provider. Initially, Uniswap allowed the exchange of tokens based on the ERC-20, but this was later extended to include the BRP-20 standard.
Aave (AAVE)
That is, friendly souls. And basically a decentralized protocol for lending and borrowing without centralised bodies. It offers very different functions, including instant lending, variable interest rates, multichain support or interoperability. Just like other platforms, native token holders manage the platform. They create and vote on proposals concerning Aave itself, the platform's vault and various updates.
Maker DAO
This is also a decentralized autonomous organization built on the Ethereum blockchain. Users can borrow and generate stablecoin DAI here. How do they do it? By depositing the underlying assets in smart contracts.
The platform is managed by MKR token holders, who determine the direction of MakerDAO. They make decisions on protocol parameters such as platform fees, interest rates or types of security.
DAO tokens – what is their purpose in the structure?
As you have seen from the examples above, there are many types of DAO. The purpose of such platforms depends on the specific needs and objectives. What types of DAOs can be found on the market? Here they are:
Protocols,
Venture,
Media,
Entertainment,
Grants.
And many others. Well – but what about tokens? Tokens in a DAO structure reflect the long-term vision of a particular protocol. They are useful for creating rewards and incentives for users of a decentralized, autonomous organization. They encourage voting on the direction and development of the DAO. Tokens are the main reason why users engage with the platform and invest in the success of the protocol.
The whole process of allocating and providing DAO tokens itself depends on the goals of the platform and the community itself. In any case, however, there must be a balance between rewarding users and replenishing the Token DAO treasury.
Summary
Decentralized autonomous organizations (DAOs) are a key element in the development of decentralized protocols. They foster a sense of belonging and community. At the same time, they bring together users' interests and encourage active participation in the process.
DAOs have enormous potential. Of course, each project has its own advantages and disadvantages, so you should weigh it carefully before deciding on an autonomous organization. Tokens play a significant role in this structure.
Complete your lesson!