51. What is Regenerative Finance (ReFi)?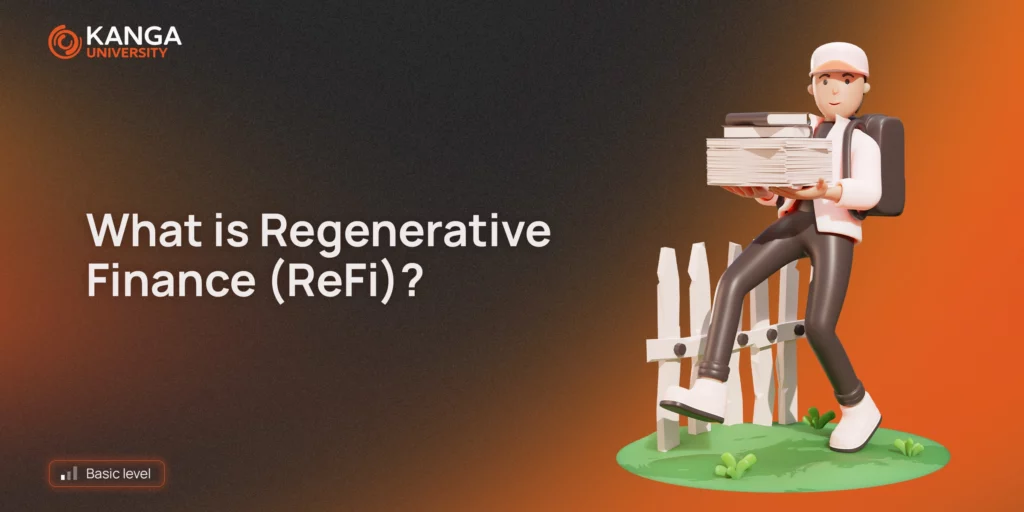 Regenerative finance, abbreviated ReFi finance, is a type of finance that seeks to change the strategy of traditional finance. ReFi creates a financial ecosystem that helps all users now and in the future.
Regenerative finance brings together two sectors: the regenerative economy and decentralized finance. They open up new opportunities and access to sustainable and open financial services for all.
Let us now look at the blockchain. ReFi on blockchain is based on estimating the value of natural assets based on their regenerative and conservation properties. Unlike traditional finance, the value of assets is not only based on cash flows.
So, how does the regenerative economic model on blockchain work? It uses the following model:
It values natural assets by calculating their use as carbon sinks or the cost of removing a tonne of carbon from the atmosphere.
The value of these assets is estimated as tradable assets on the blockchain.
Liquidity is then created for the assets created in this way.
The concept of regenerative finance itself was born in 2015. That was when economist John Fullerton first introduced the term 'Regenerative Capitalism'.
Advantages of regenerative financing
ReFi departs from conventional financing and emphasizes long-term sustainability. As mentioned in the introduction, regenerative finance combines two disciplines: decentralized finance (DeFi) and regenerative economics.
Decentralized finance aims to abolish the opaque, centralized financial infrastructure. They aim for a complete democratization of finance.
On the other side is the regenerative economy, which places great emphasis on a balanced, circular flow of capital. The ReFi approach uses resources to address environmental disasters and the negative impacts of carbon emissions. It takes into account what the traditional financial system ignores – the external environment and society. This feature is missing in traditional, market-based economic systems.
Even though ReFi's actions and results are not tangible in the short term, most of these investments have a long-term perspective.
Moreover, ReFi reduces financial risk and contributes to the development of a sustainable future. Companies should therefore take a closer look at this financial structure, which can increase profits, reduce costs, optimize resource efficiency and have a positive impact on society and the environment.
The impact of regenerative finance on the cryptocurrency sector
The crypto sector is already feeling the positive effects of regenerative finance. Experts in the field believe that the trend will only strengthen and continue. ReFi is most evident in the growth of green cryptocurrencies. Such digital assets focus on environmental, social and governance (ESG) issues. They encourage their users to act sustainably and invest responsibly. Environmentally conscious traders are turning to these assets.
Regenerative finance enables the creation of so-called impact DAOs. These decentralized, autonomous organisations invest in ideas that benefit the world. This leads to better social outcomes and more democratic and efficient decision-making.
Blockchain companies invest in ReFi
In the field of regenerative finance, we can identify no less than 22 companies. Let us take a look at the profiles of some of them:
Celo. The company has developed a carbon-neutral Tier 1 blockchain. It also uses the Proof-of-Stake consensus for its operations, making it more energy efficient and environmentally friendly.
Toucan. A platform from Switzerland converts carbon credits and other environmental assets into tokens on the blockchain.
Millicent. The project aims to combine traditional finance with DLT to build an open financial infrastructure. It improves efficiency through more energy-efficient operations, lower transaction costs and faster transaction speeds.
FlexiDAO. A company based in Spain. Helps businesses and governments run on carbon-free energy. It tracks their electricity consumption and its actual carbon content.
Regen Network. It is a blockchain development platform based on Proof-of-Stake consensus. Their goal is to phase out tokenized carbon on the blockchain.
GRNGrid. This is a blockchain platform with DeFi functions. It wants to harness green energy with blockchain technology.
ClimateTrade. Provides solutions to businesses, including carbon offsets with blockchain technology.
Powerledger. It is both a cryptocurrency and a blockchain-based energy trading platform. The company aims to fully democratize the global electricity market.
Thallo. The company deals with clean energy. It focuses on carbon credits.
Xpansiv. The organization wants to create digital assets that are subsets of certain commodities and are distributed based on resource impact.
Riddle&Code. Wants to unleash the full potential of industrial engines for the Web3 sector. Their products enable tokenization of production and energy consumption.
Tanbii. It is a platform for the Web5 planet impact universe platform. It connects the real and virtual worlds and aims to create a greener planet.
GitCoin. It is an open-source blockchain. The company wants to create an economically powerful and collaborative internet.
Nori. It fights climate change. The company intends to create an open-source infrastructure that allows other companies to remove carbon and monetize these activities.
Diginex Solutions. Solves sustainability and ESG problems. Uses blockchain to increase transparency and drive change.
Summary
Regenerative finance (ReFi) is the cryptocurrency answer to sustainable projects. Its trend continues to grow. And why? Because with the trend comes a growing need to address the climate change we are experiencing. ReFi also offers a reasonable financial return for the projects it offers, and its use cases include real-world applications.